Celebrating 30 Years of Bringing the Meditteraanean to New Zealand
Mediterranean Foods Trattoria and Deli is passionate about creating food experiences for people attracted to fresh, healthy and tasty flavours through dishes ready to eat immediately in the trattoria or to create at home. They want Kiwis to embrace the benefits of the healthy Mediterranean Diet. Eat, drink and be healthy the Mediterranean Foods way!
As a proud family-run business operating since 1990 and in celebration of 30 years this year, they want you to join them on a trip down memory lane.
What started with a plumber, mechanic and fish shop in Cuba Street, Wellington has now developed into NZ's largest importer and distributor company of specialty Mediterranean food products. Mediterranean Foods traces its origins back to the southern Italy immigrants who made NZ their home in the mid 20th century. Not only were they faced with the challenge of a new culture and language but also missed the absence of food from their home country.
Rewinding back to a fish shop in Cuba Street, 1990, Joe and Gino Cuccurullo's father, Antonio, and his long time friend, Camillo Amitrano started this shop. Keeping in line with family values and shortly after taking over the Wellington Fisheries shop, brothers, Joe and Gino, decided to develop the wholesale side of the business by selling fresh seafood to Wellington's restaurants. By 1994 they moved to Lyall Bay to purchase a larger fish processing facility on land.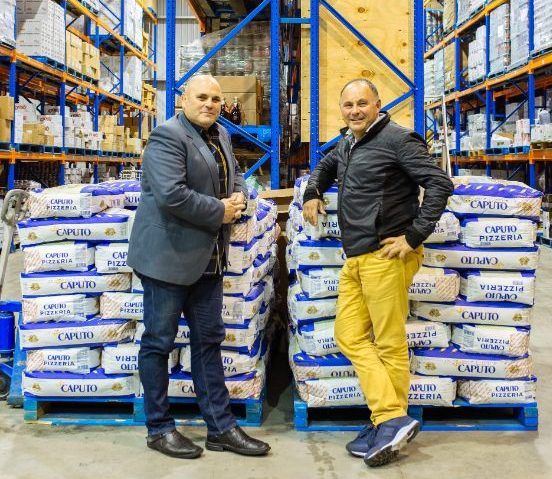 A couple of years later in 1996, they decided to extend the range of products they could offer and began importing Mediterranean-style deli and grocery items to appeal to restaurants and also themselves! With just a pallet of products from an importer in Christchurch with whom they eventually set up the Mediterranean Group, an importing company, they now import into NZ over 200 containers per year by the sea.
In 1999 they moved the business to the current location in Constable St, Newtown, where in time a pizzeria was added. 2002 brought back memories of importing a special pizza oven from the village where their father was born, handmade by a local artisan. Nine years later, a makeover of the original store was complete with a new layout and extension to allow for more seating as they continued to grow. As a result, the original Italian oven was replaced with a larger one, this time handmade in NZ.
Family has always been important to Joe and Gino. Their father, even in retirement, would get involved each day helping out by packing olives and cutting cheese and making his renowned doughnuts long before they became so popular today. Their Mother, Teresa, used to wash and iron all the pizzeria linen. Today Joe's son, Anthony, is the Warehouse Manager in Wellington and Joe and Gino's other children have all worked at some stage in the family business while studying. Their sister, Nina, recently joined the team and works on the marketing and retail promotion aspects of the business. A significant part of the trattoria are the walls that proudly display photos of the family and history of Wellington's Italian community.
In 2013, Mediterranean Foods published 'Food and Family – Tastes and Memories of Italy' that was believed to be the first book of its kind produced with original recipes from an Italian immigrant community in NZ. The book was also a medium for providing history of Italian families who had made their home in Wellington. This year also marked the beginning of online retail for the business which has become a popular avenue over the years due to changing consumer behaviour. Joe and Gino endeavour to keep ahead of changes in this evolving world and fortunately investing in this online aspect of the business proved to be vital during the COVID-19 restrictions.
A rebranding in 2016 resulted in the Newtown side of the business developing to become the Mediterranean Foods Trattoria and Deli. Initially stock was arranged in a warehouse like setting but a vast makeover was undertaken for loyal customers to enjoy a stylish and contemporary decor including a dining area, shop and deli including wines from around the Mediterranean.
Joe and Gino travel overseas each year to the Mediterranean searching for new products, attending food shows, maintaining relationships with suppliers who they now call friends and take the opportunity to visit family. However they value selling local NZ companies and products as well.
After starting one of the original wood fired pizza businesses in Wellington, Joe and Gino led the way again in 2019 to incorporate the latest innovation from Italy by installing an electric pizza oven from Naples. As a business they felt responsible to enhance their environmentally friendly decisions, hence an eco-friendly pizza oven and disposing of the use of plastic bags long before this initiative.
Even though Mediterranean Foods Trattoria and Deli, Newtown, is the public face of the brand it is only 25% of the business. The majority is wholesale supply to companies such as Farro in Auckland and My Food Bag. Their products are also sold to cafés, restaurants, shops, large food manufacturers and hotels.
Focusing on the future, growth this year includes setting up a storage facility in Auckland to meet the expanding Auckland market. A rewarding way to keep the Auckland sales team busy. Gino says, "who knows what the future holds. We are both getting older but are just as motivated and passionate about growing our business as we were back in 1990. We have grown up surrounded by hard working families whether they were in business, employees, relatives or loyal friends".
While Mediterranean Foods has steadily grown over the years, the fundamentals behind the business have not changed due to the increased scale. Joe and Gino take pride in satisfying customers' high expectations.
One quote that stands out to them is by Massimo Bottura, an Italian restaurateur and the chef patron of Osteria Francescana, a three-Michelin-star restaurant based in Modena, Italy, stating "let's treasure tradition while looking at innovation".