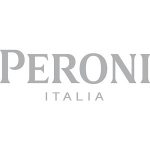 Peroni Italia
Brewed in Italy to the original recipe since 1963, exemplifying the traditions of Italian craftsmanship, passion and flair upon which it was formed.
Peroni Nastro Azzurro is Italy's number one premium beer. It is brewed using the finest hops, two-row spring planted barley and contains 25% Italian maize, including the proprietary variety Nostrano Dell'Isola.
Effortlessly stylish, this Mediterranean style lager delivers an unmistakable crisp, refreshing taste and a fine subtle aroma.
---
+64 (0) 21 648 036 | admir@peroniitaly.co.nz | www.peroniitaly.com