Stefano Riela
If you are enjoying a traditional Italian aperitivo, it is likely that you see geographical indications (GIs). Take a close look at the packet of your Parma ham and on the label, you will spot a red logo that reads "Protected designation of origin (PDO)". You will find the same symbol on your Prosecco bottle. If instead, you are accompanying the Chocolate of Modica with a glass of Grappa or Limoncello the logos are blue and red "Protected geographical indication" (PGI).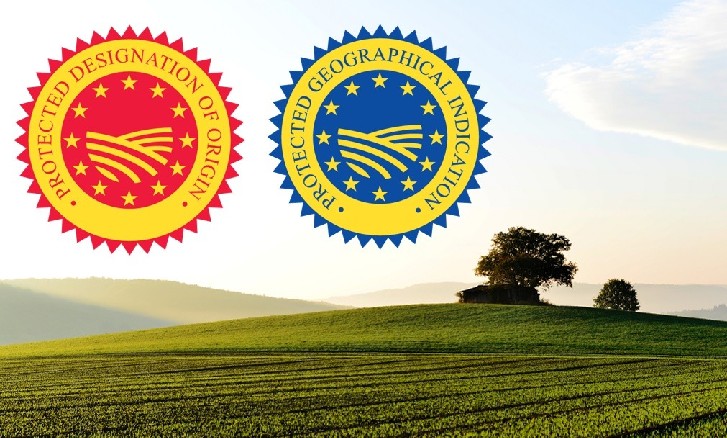 Those symbols have been adopted by the European Union as GIs. The main function of GIs is to identify the origin of goods as they point to a specific place of production that confers particular characteristics and qualities to the product. This uniqueness linked to a terroir is generally the mix of physical characteristics and human factors such as know-how and culture.
The red logo is for PDO products, the ones with the strongest connection to the place where they are made; every part of the production, processing and preparation must take place in the specified geographical area, and the products must adhere to designated specifications. PGI products use the blue logo and for them is enough that at least one stage of production, processing or preparation takes place in the specified geographical area.
Nothing in GI rules prevents anyone anywhere to produce balsamic vinegar adopting the same techniques specified for Aceto Balsamico di Modena (PGI) and Aceto Balsamico Tradizionale di Modena (PDO). However, producers outside Modena cannot use those names and blue/red logos.
In times when globalisation and its over-stretched value chains have cancelled the political geography and lowered the obstacles posed by physical geography, GIs allow consumers to make a more informed choice and producers to differentiate their products.
Among the 3,304 GIs registered in the EU, more than 26% are Italian. Italy, in fact, sports the largest portfolio of GI products (870) followed by France (743) and Spain (358). Along the products already mentioned in the previous lines, other household names are Prosciutto di Parma, Grana Padano, Parmigiano Reggiano, Mozzarella di Bufala Campana, Gorgonzola, Aglianico del Vulture, Prosecco, Dolcetto d'Alba, Primitivo di Manduria, Brunello di Montalcino, Mirto di Sardegna, Vermouth di Torino. Other famous European GIs are Greek Feta, Cypriot Halloumi, French Champagne, Spanish Queso Manchego.
The more successful a GI is, the more likely it is exposed to misappropriation and counterfeiting. This is why the EU is committed to 'export' the protection granted to GIs at home, at international level also via bilateral trade deals such as the ones with Canada, China, Japan, South Korea, Vietnam, Singapore.As part of the free trade agreement negotiations – expected to be completed by the end of 2021 – the EU has asked New Zealand that to protect 2,200 of its existing GIs for wines, spirits and food products for exclusive use by EU producers. A long list considering the few GIs currently registered in NZ are only wine (eg, Central Otago) and spirits (eg, Scotch Whisky). This request from the EU has not been welcome by those who think it is a new form of protectionism of European agrifood business. However, if agreed, this law change would significantly increase the scope of GIs in New Zealand and it would offer an opportunity for NZ's producers to differentiate their agrifood products in the international markets.